Fishing Tips from No Fuss Guss

Guss knows the local conditions
and has skippered many fishing parties
on the lake over the years. So here it is -


The Lake Tyers

Fishing Report

Check Water Wheel Beach Cabins for your mates' next trip.



-=o0o=-
WARNING: Boat Ramp Number 2 is closed for next 2-3 months due to upgrade.
19th August 2015 : Fish have quietened down


The news around the traps is that fish are hard to come by, and even keen locals are having to work hard to make catches. The incoming bait fish continue to attract flocks of birds, and quite a few whale sightings have occured but not much excitement angling wise. Small Trevalli are around and people have had gear lost to Tailor, but not much talk of Bream or Flathead. Take care, and easy as you go.

No-Fuss Guss



10thAugust 2015: The news is good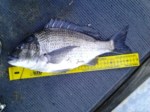 The early bird gets the worm, or on this case it is Shawn from the shop landed a nice Bream 39cm and wife Leeane got an 18cm Pinkie. Plenty of bait fish on the incoming tide with lots of bird activity. Take care, and easy as you go.

No-Fuss Guss
9thAugust 2015: The Lake has Opened


The lake has been hard to report for two reasons I have been flat out in Melbourne the last few weeks workin' my butt off and they lake has been so high that conditions have been difficult to assess. However the suspense is over the lake drained out today with a mighty gush through a pretty deep channel, so the wait for a really good break out has been worthwhile. However the fishing will be difficult to predict over the next week or so until things settle again. Stay tuned...

No-Fuss Guss



23 July 2015: Twin Rivers Bream Classic

Not exactly Lake Tyers fishing news, but I thought you might like to know that Gus caught the heaviest kept Bream at the Twin Rivers Bream Classic 1.471kg. He won a $175 prize for heaviest kept fish and cemented his name into the winners list. It was a great team experience with Lorraine, Andrew and myself making up the numbers. Gus has been studying the conditions and aiming to do well for a number of competitions, and with 600+ entrants, this time he has hit that sweet spot. Congratulations Gus!!! Rob

3 July 2015: Tactics


Apparently with a good sounder schools of bream can be located from the Green House through to Trident. Once located, try hard body lures and vibes for best effect. Lake level is steady and pretty dark with tannins after recent rains. Nearly all the sands around the islands are now navigable with a tinny style vessel. Take care, and easy as you go.

No-Fuss-Guss



29 June 2015: Fish off the bite


Not much activity in the Nos2 Boat Ramp car park, and this is the same as the talk of the fishing. A lovely Sunday morning yielded no hits, and not even a hint the fish were interested in lures or bait. Locals have reported likewise this last week. Maybe higher up, near Nowa Nowa it maybe different. Definitely a winter chill in the air. Take care, and easy as you go.

No-Fuss-Guss



18 June 2015: Bream still the mainstay, but Flatties can be taken


Fishing has become much quieter, but there are still hauls for the experienced and canny around. Apparently vibes and other hard body lures are working well if you can find the fish. Use your sounder carefully and don't surprised if you find them in deeper water a little way up the arms. Good hauls by tight lipped fishermen were taken last weekend, who shared little but a visual feast on the cleaning table. We have had 20+mm of rain just before this weekend end, so that maybe a game changer. Take care, and easy as you go.

No-Fuss-Guss



9th May 2015: Bream can be found
The rain has eased, we have had some good weather and the boats have been enjoying the higher lake levels. People are finding very good bream up along the banks in the smaller arms in the Nowa Nowa and Toorloo Arms. Using local prawn and anchoring off the bank, but fishing back to the bank into the shallows, some excellent catches are being taken. The Flathead have become a bit harder to find, but never the less good catches are occasionally reported. Generally the season is holding out longer this year. Alin Tourian pictured with first time catches of 44&43cm Bream. Great day out! Take care, and easy as you go.

No-Fuss-Guss



29th April 2015: Lake responds well to plenty of Rain
Heavy rains last weekend did not dampen the spirits of keen anglers who collected live Prawn on the Friday night and used it to great advantage Saturday afternoon with the landing of a 47cm Monster Bream (Would that be a lake record for fishing or exaggeration?). Also a very good haul of good sized Bream on very fresh local Prawn, and Flathead taking plastics made for a very good day of fishing for the Happy Hookers Fishing Club. Rowey won the comp' with the Monster Bream, well done! Bream were to be found along the banks and well up in the small arms between Bulmers and The Island. The water is quite dark and cloudy with the run-off. Take care, and easy as you go.

No-Fuss-Guss



21st April 2015: Cooler weather is making it harder


Bream can still be found but the search is becomoing a good bit harder with big catches still possible but generally the feeding is slowing down. What was hot last month is now producing good results one day an d marginal to poor the next. Plenty of small fry taking easy baits and stripping hooks. Fish generally wary of carelessly baited hooks, so keep the metal covered. Take care, and easy as you go.

No-Fuss-Guss
12th April 2015: Guest Tipster, Roy, has the Easter Report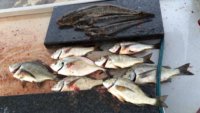 "Over easter period 2015, while staying at Waterwheel Cabins park with the family,my name is Roy C,and I have some pics to show how good the fishing is in Lake Tyers at the moment. Best Flathead over Easter weekend was 65 cm,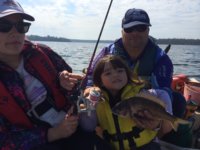 released safely after pics and Bream at 36 cm. Also good mixed bag every day out. All fish caught on Prawn, bait and plastics. When quiet, my wife Brenda C caught the 65 cm flathead and my little daughter Gabriella caught the 36 cm bream. Also caught nice Silver Trevally shown in our pics and a Flying Red Gurnard much to our surprise. But all in all fantastic stay with very friendly people in town, publicans very helpful and great food, thank you for a magnificent place and we'll be back very soon.

" Thanks Roy, take care, and easy as you go.

No-Fuss-Guss
4th April 2015: Good catches in many locations


Good catches of both Flathead (around 45 cm) and Bream (up to 43cm, but many undersized as well) are being reported around the lower lake, from Bulmers, down and back up to Blackfellows Arm. With good Easter weather the fish have been active biters. Bait appears to have the edge over lures at the moment. However experience and good strategies could easily reverse that. So take local Prawn (half peeling is a good variation that often makes a day successful) and your favourite lures. The lake is cooling gradually and this will slowly take edge off many fishes' appetite, but the season is not over by any means. Take care, and easy as you go.

No-Fuss-Guss
18th March 2015: Action on the lower lake


Good sized Bream (Blue Noses) are taking Prawn right around the lower lake with patches off the Glasshouse providing plenty of action. The are plenty of undersized Bream around as well, so consider using bigger hooks (eg 2-0 Baitholders) and baits (eg whole Prawn, half Pilchard) rather than smaller hooks, and do the little fish and yourself a favour. You may have less hook-ups, but you won't be injuring fish you can't take home. Plus there are still a lot of monster Flathead active so a larger hook and bait will not go astray with them either. The upper limit on Flathead (over 55cm must be returned, and 55-30cm has a bag max 5) has seen numbers of catches of big Flathead increase, so best be prepared with the bigger tackle. Prawn season still on, but getting to the end of the run this month. Take care, and easy as you go.

No-Fuss-Guss
14th February 2015: Consistent catches


The pace has eased with holidays over for many, but the Bream and Flathead are still plentiful. Around the channel markers, and even as close as Number Two Boat Ramp and Jetty are giving good sized fish and plenty of action. Up the arms on both sides (eg above the Island) are worth the effort as well. Glass House and the Green House with local Prawn, part peeled also working well. Take care, and easy as you go.

No-Fuss-Guss
5th February 2015: Good results all around


The lake is fishing well with good summer catches being reported. The Channel Markers have been giving anglers good sport with catches of Bream and Flathead on Pilchard and Prawn. Trident up to Camerons has also had good reports with similar baits and also plastics. The Channel Markers were getting some repairs last week, and the entrance has completely closed. Even big storms and high seas directly from the South East failed to re-open it, though some run-over into the lake did occur. Prawning has been lo-key so far but should kick start again next new moon which will be in about a fortnight's time. Take care, and easy as you go.

No-Fuss-Guss
22nd January 2015: Things are heating up


The opening is nearly closed with the run in/out only occuring at the top of the tide. The Prawns are beginning to run, and are there if you are prepared to put the time in. Early morning is best for the big fish, but good Bream are also being taken during the day between Camerons and the Trident on peeled Prawn. Cut Crab has worked well at Long Point, but generally the lake is fishing well lower down and a bit up each arm. Even not so obvious, places like around the bouys have been producing good fish. Pick the top or bottom of the tide to get the edge. Take care, and easy as you go.

No-Fuss-Guss
5th January 2015: Lake providing plenty of action


Reports of very big Flathead on live Mullet have been coming in, with plastic lures around the edges though still giving people their Flathead bags. Bream are taking Prawn and having some Pilchard handy would also be a good idea. Not much action on the Prawn Season with only a few eager beavers out with lights so far. North of the mud islands is still a popular spot with canoes, and people prepared to wade. The Lake is still tidal and currently at lowest levels. Take care, and easy as you go.

No-Fuss-Guss
20th December 2014: Bream and Flathead still going well


A recent visitor and his two girls had a good couple of days out using local prawn and putting whole prawns on the hook. Good sized Bream were taken each day and a couple of good Flathead to mix it up a bit. There is plenty of dark tannin coloured water about from the recent heavy rains, but people have reported this has helped catches rather than hindering them. Overall the lake is clean and healthy with only a few algal patches here and there. Fishing off the jetties on a moving tide will multiply the algae on your line. Take care, and easy as you go.

No-Fuss-Guss
15th December 2014: Bream are active


The live Mullet have been in the news attracting both good Flathead and bigger Bream. Bream around north of Tern Island and Mission Point, along with Flathead and Leather Jackets, all taking peeled Prawn on a slow drift. Tailor are also punishing light rigs. Take care, and easy as you go.

No-Fuss-Guss
13th December 2014: Flathead setting the mark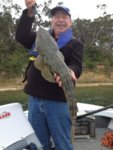 The Flatties around the edges of the lower lake are biting strongly. Recently quite a few very big Flathead have been caught well over the 55cm and returned. Some have snapped lines, and given anglers a real fight. If you want to catch one of these monsters consider a heavier rig! The ban on not keeping Flathead over 55cm appears to be paying off to the delight of many anglers. Hopefully this will lead to more breeding and many more smaller Flatties in the system. Bream have also filled people's bags as well. Don't get stuck in a rut and just use the same old rig for Bream, if the pace is slow, try other things than vibes and plastics, you may get lucky! Take care, and easy as you go.

No-Fuss-Guss
25th November 2014: A good season ahead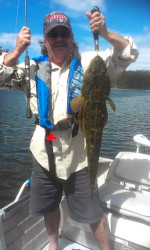 The Flatties are still taking the plastic lures and the Bream are on the local prawn. Hard to pin point the best areas as many good reports are coming in throughout the lake. Skippies are taking baits and making a mockery of any weak rigs, so be warned. A few optimists are attempting late night Mulloway hookups, though any success is yet to be confirmed. A bit of bias though is towards plastics with Flathead in the Toorloo Arm, say Blackfellers Arm in particular, and then Bream, on local prawn (try peeled?) around the Glasshouse, lower lake area. (Check this recent catch by the Happy Hookers as a representative haul, note the Whiting!) Take care, and easy as you go.

No-Fuss-Guss
12th November 2014: Good catches being reported


Plenty of good reports, hard to know where to begin. Generally anywhere, and everywhere is doing good. Plastics are working well on the Flathead as they appear to be right back in season at the moment. Night fishing from Number 2 Jetty producing some good results, with a few Tailor also being taken in the evening. A steady stream of boats to and from the lake indicate that results are good. The spring time weed continues to pose a few small problems but good casting and retrieving gets over it. The lake is still strongly tidal and will probably stay that way until late December. At high tide there are some good places for kayaks around the Mud islands's sandbanks to exploit. Take care, and easy as you go.

No-Fuss-Guss
28th October 2014: The opening is producing variety of catch


Fishing the banks around the main lake on soft plastics. Plenty of quality Flathead from 40cm up to 82cm! Up the lake towards the Trident, Flatties, good Bream, small Pinky Snapper, and a Whiting! Nowa Nowa arm before Devil's hole Flatties, Bream, ~3lb Snapper (not really a Pinky!!) and Tailor. Flatties around Fern Bay, and good size bream. Check the start of incoming tide. Pilchard and peeled prawn were the best baits and plastics for Flathead. Take care, and easy as you go.

No-Fuss-Guss
23rd October 2014: The opening is producing variety of catch


Local prawn half peeled and on a relaxed line is taking good Bream around Blackfellows Arm, Fern Bay and around Long Point. Dusk appears the best time to try with a variety of fish on offer, beginning with the usual suspects, Bream and Flathead, but also Leather Jackets and Tailor. Mulloway and Whiting have also been taken in isolated cases, however the challenge is, they are there! The Lake continues to be open and strongly tidal in the lower reaches. The seasonal spring algae (the green good stuff) is taking off and will start to pose a challenge to anglers. Tip: if just rebaiting, high rod tip, retrieve quickly and come in across the top, if you have a big one hooked, then good luck! Take care, and easy as you go.

No-Fuss-Guss
13th October 2014: Things are looking up


I had an excellent catch of 5 Bream (longest 37cm) were taken in the Glass House region near a channel dropoff that headed towards the opening. I was on the Party Boat (on a maintenance test run) with local Prawn from the LTB Shop on Sunday morning. The fish were caught quickly in succession and then everything went quiet. Another local went out with his son, and his son out-fished him with a similar bag of fish last week (again Prawns for bait). These were taken around Long Point and and Mill Point. It would seem that generally the spring to summer trend of improving fishing is taking on. Don't forget to look up the Tavern Fishing Comp 28/29th November there are excellent prizes. Take care, and easy as you go.

No-Fuss-Guss
2nd October 2014: Very patchy, but a couple of highlights


Some good bream catches have been reported with local prawn and occasionally lures. A few boats seem to find patches of good fish, and yet others struggle. Recent visitors, Brian and his mates from Oakley, at The Holiday Retreat using blue bait and prawn sourced at the local shop, got a really good haul of Golden Bream (along with Salmon and Trevally), mainly around the Toorloo Arm lower reaches. Well done lads.

Highlight #1: Local lad landed a 90+cm Flathead in upper reaches of Toorloo Arm on plastic lures. Biggest catch recently heard of. Highlight #2: local bloke using a 2.0 hook lands smallest Flathead seen for a long while. Needless to add, but both were returned un-harmed to the lake! Take care, and easy as you go.

No-Fuss-Guss
14th September 2014: Good catches possible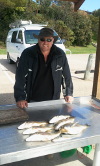 After watching at least 6 boats returning to the ramp, and not one fish rushed to the cleaning table, it looked like it was really hard going. However, then two boats came in, and while they were a team effort, the little boat did the heavy lifting fishing wise. We have been hoping for a turn around after the disuption of the opening- this maybe the start.

These Bream (most around the 31-35cm) were taken in the lower part of the lake, north of the mud islands, on slack lines, and "old" prawns. The two guys did well, and really broke the drought. Other reports have come in also of Bream being active near Crystal bay, Burnt Bridge and The trident about a week ago(Happy Hookers Angling Club, Warragul). Take care, and easy as you go. No-Fuss-Guss

8th September 2014: Lake Tyers recovering

We would like to welcome guest tipster Daff who was out on the lake last week, and fished the lake hard and found the fish very scarce. Daff and Jimmy are locals and regularly do really well. However, only one keeper managed after considerable time and distance covered.
Plenty of people took advantage on Fathers day for a day out and hopefully they had better luck. However they could not complain about the weather, it was a glorious day. We would be expecting the lake conditions to settle into the strong tidal activity, and the fishing to pick up as the weather warms and the fish/bait stocks stabilize. The opening does tend to "shock" the system for a few weeks, maybe only a week or two more to go, and things will improve. Take care, and easy as you go. No-Fuss-Guss

23rd August 2014: Lake has been opened

Someone dug through the sandbar and caused the lake to open last Wed. For those of you with long memories, tuck this away, it was heard that visitors with hard-body and plastic lures were catching plenty of Flathead up the Toorloo Arm, and local people were still able to bag out with Bream on Prawn just before the lake opened (we had just had 50-65mm of rain). Now that it has opened, it will take a while for things to settle into any pattern. However considerable interest has been shown in what comes and goes in the lake at this early stage with plenty of fishers trying their luck at the new opening. The opening is a broad shallow one at this stage, but tidal patterns over the next few weeks will consolidate it into a deeper channel. Last year when it opened about the same time of year, the fishing was hard for a fortnight or so, but really took off after that. Take care, and easy as you go. No-Fuss-Guss

4 th August 2014: Cold mornings but beautiful weather

The fishing has been very quiet. The boat ramp has been empty most days, and the only regular activity has been the filming of a drama movie up around Devils Hole and at the Trust. The lake continues to be about 30-40mm of quick rain to take it out. The sandbar is quite substantial but a bit of storm and a full moon with hight tides could be enough. Talk has it that fish head for the bar when the lake is about to open, so maybe some lures behind the bar would be interesting? Rug up! Take care, and easy as you go. No-Fuss-Guss

Special Announcement

We have a fun evening of fishing comp' activities and information happening on August 16, 2014 on the sandbar and at the Water Wheel Beach Tavern at Lake Tyers Beach. 3pm until late. All funds raised to go to Melon Cottage. Take care, and easy as you go. No-Fuss-Guss For more details.....

16 July 2014: Not many but excellent quality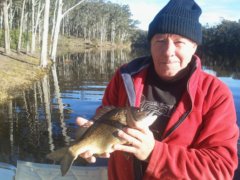 We have a local guest tipster this time, Johnny Jol: Good sized Bream (35-40cm) are taking peeled Prawn in the Toorloo Arm from Lonely Bay up to Cherry Tree. Fish with a slack line as the fish are feeding very hestitantly and will need time to fully take a hook. Sea Grass is plentiful and will provide resistance to retrieving a fish, much as if snagged. Slow and careful is best and pull them through the weed. No sinker may help present the bait better higher in the weed than pulled low by a sinker.
Take care, and easy as you go. No-Fuss-Guss

5 July 2014 - Fish can be found

The rain appears to have had little effect as anglers reported good sized Bream taking Prawn (did not take any Sandworm!) near Long Point and Blackfellows Arm. Other parts of the lake, such as the tempting access from the Tavern carpark have been very quiet (our coffees with egg and bacon rolls from the Store however were magnificient). There is considerable weed being washed up and this may make choosing a spot to fish more difficult. The water has plenty of tannin in it, but otherwise in good condition. 20-40mm of rain will probably see the lake open to the sea. Take care, and easy as you go. No-Fuss-Guss

25 June 2014 - Bream, Flathead, Pinkies and a Whiting

The recent rains have been and gone and about a fortnight after the last 60mm it took about three weeks for the fishing to have recover a bit. Reports came on of bream, flathead, pinkies and a whiting being taken off the bank near number 2 Jetty at dusk. Since then we have had 10-15mm of rain and may cause them to be unsettled for a little while longer. Take care, and easy as you go. No-Fuss-Guss

5 June 2014 - Bream becoming harder

The fishing has tapered off here with dedicated local in the know still taking good Bream and Flathead. However the easy pickings for the casual visitor are very few. Many of the fish will be heading up stream so perhaps starting at Nowa Nowa and coming down maybe a better option than a long ride from the lower lake. Go easy on anything you think is spawning. The Hoby Kayak Competition was on a fortnight ago and while a very well run event, Lake Tyers proved to be challenging and separated the men from the boys. Congratulations to all the organisers and competitiors it was a great catch and release comp'. Take care, and easy as you go. No-Fuss-Guss

15 May 2014 - Bream still good
The temperature is dropping these mornings and the flow of boats onto the lake has slowed considerably, however good catches of Bream on baits is continuing. A little early appears better than later and you may have to work for the last few in your bag, but the fish are high quality and well worth the effort. Take care, and easy as you go. No-Fuss-Guss

3 May 2014 - Fish in excellent condition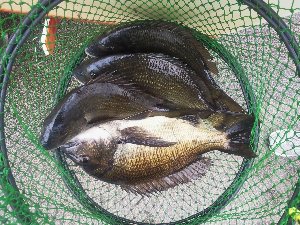 The Prawns are still around and the evidence is in the quality of the fish being taken. Both Flathead and Bream are producing excellent fillets when around the 45-50cm and 35-40cm respectively. Depths of 2 metres or so are working well with local Prawn, both peeled and un-peeled. Others have reported that hard bodied lures are also working well in the deeper waters. There is a bit of weed around but all the good stuff. Some super sized Flathead have also been caught and released. (Remember new rules: Flathead 55cm and over must be returned to the water unharmed.) Take care, and easy as you go. No-Fuss-Guss

25 April 2014 - Flathead setting the pace
Good Flathead catches reported in Toorloo Arm section around Fern Bay. Earlier this week people had been able to catch their own Prawns the night before, and take excellent Flathead on live Prawn the following day. Keeping your bait moving, drifting is a good thing to try. Central in the lower lake, just north of the Mud Islands, is also attracting a lot of attention. Good sized frozen Prawns are working well, though it is hard to imagine any fish in the lake not being sick of them by now! Easter was very positive, but the temp of the Lake is now about 17\B0C and falling quickly from the high of around 23\B0C over summer. Considerable water has leaked through the sandbar as well, and lowered the lake. So time is running out for this season. Take care, and easy as you go. No-Fuss-Guss

14 April 2014 - Fishing all good
Huge down-pour of about 80mm. People reporting catching Flathead on lures and slowly trolling (!!!) before the downpour, so an interesting concept? More news later in the week, as it comes to hand. Lake has risen about half a metre plus. Not many out fishing while the rain and drizzle is about. Hopefully it will clear up for Easter. There will definitely be plenty of water in the lake, but the rush of incoming fresh water can unsettle fish. Reports so far though have been encouraging. Take care, and easy as you go. No-Fuss-Guss

7 April 2014 - Fishing all good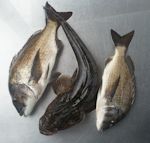 Good catches are being reported across the lake with most being taken on classic baits such as whole prawn, but plastics and other artificial lures are also proving effective on both Bream and Flathead. No need to travel far up the arms unless your are really into scenery and have your favourite spots already in mind. Slight changes in the weather can work to your advantage, so don't let a little rain put you off. Plenty of action on the Prawning scene with very good catches reported, however Easter means a full moon so that may make it a little harder. Take care, and easy as you go. No-Fuss-Guss

27 March 2014 - Lower lake and arms performing well
Get your prawns and use them whole, and on a good sized hook. There are decent 40+cm Black Bream around and some excellent Flathead to be had.


Anchor up, and peg out if you have the poles, and fish back towards the drop away of the banks. Don't nose up on to the banks and fight the weed. That will also help avoid the pesky little ones. Don't move about too quickly, if you have got one or two, the school might be back anytime. The 15mm of rain will have helped freshen things up. Take care, and easy as you go. No-Fuss-Guss

19 March 2014 - Bream everywhere
Good catches of Bream reported from Balckfellows Arm and Crystal Bay. People reported bag limits were readily achieved. Plenty of undersized ones though stripping bait. So if you want some fun and don't mind throwing them back, then use small hooks, otherwise if you are only after quality fish put on the larger hooks eg 2.0 Baitholders and just keep the bait up to them. Others have been taking bream from the bank and around the local jetties. Take care, and easy as you go. No-Fuss-Guss

25 February 2014 - Bream and Flathead providing quality catches
Mill Point has been reported to be fishing well, recent catches of both Bream and Flathead being taken under the powerlines. Six Flatties and five Bream made a very successful day. There are also some thumper Bream coming on with Leanne at the shop nailing a beauty

(now on the bragger's page!). Plastics continue to perform well, but a well set up Prawn is pretty hard to beat, especially for the Bream. Blackfellows Arm, across from Mill Point, has also produced some decent Flathead. Generally hunting around the lower lake near the drop offs, such as Glass House and Mud Islands, would be a good bet. Easter is looking pretty positive. We are just hitting a low point with the moon so the prawning people better have their batteries charged!! Take care, and easy as you go. No-Fuss-Guss

12 February 2014 - Bream and Flathead catches have improved
Reports of good catches of both Bream and Flathead are coming in. Nothing too difficult, and baits like local Prawn, our old standby, with some moving Pilchard for the Flathead are producing good results. The lower lake and even around the channel markers are producing good fish with Flathead, above, below and within the legal take-home limit. Locals are finding their bag limit accessible with plenty of good sport in between. Hook ups with the occasional sideline fish like Trevalli have also occured. Rob has added a Moon Phase Calendar to the website that you may want to check out. In its early stages but could be handy to plan a Prawning or Gummy evening. Take care, and easy as you go. No-Fuss-Guss

26 January 2014 - Bream above the Island
The 2014 Australia Day was a beautiful fishing day on the lake. Low cooling wind, with sunshine and scattered cloud. Keepers are being taken above the Island and towards Nowa Nowa with some boats returning to the Nowa Nowa Ramp with very good Bream. On the whole though the Bream continue to be fussy eaters, however the larger ones are tending to take Pilchard or Prawn. If you know a few drop offs it maybe the time of the year to check them out. Flathead are the other main catch lower in the lake, but not in big numbers. We a looking at another hot stretch next week, and only a short break with some rain last week, so expect the Lake to be near very low soon. Take care, and easy as you go. No-Fuss-Guss

18 January 2014 - Catches improving
The hot weather is taking its toll on the lake level, but the increasing temperature of the water 22+ is bringing Flathead on the bite lower down in the lake. From the Nowa Nowa Arm Power Lines to the Channel Markers, Flathead are good prospects on bait, eg Prawn (Pilchard are a handy alternative) or plastics. Many boats have been returning with Bream. Evening fishers are having some success in the channel, left from the opening back to Number 2 Jetty with Salmon providing some lively sport. Some Gummy action has been observed in the surf at the top of the tide, but the waning moon will mean that this will not last long. A bit of action has been heard of with Prawns, so maybe worth a try. Take care, and easy as you go. No-Fuss-Guss

13 January 2014 - Flathead near Power Lines
The lake is holding its level quite well, though the hotter weather is beginning to lower it quicker. Flathead are the best strategy for a meal at the moment with plastics near the power lines in Toorloo Arm giving good sized fish. Salmon are around in the channel and with a bit of squid will give some one on lake gear a real work out. If you see small fry in the water up the Nowa Nowa Arm around Reedy Corner, then Glassies as bait can get you over the line. Take care and easy as you go. No-Fuss-Guss

30 December 2013 - Flathead in shallows
Some nice Flathead have been taken recently (See BragBoard). The green strand weed continues to be a nuisance especially for flick and retrieve, plastic style fishing, but for those that can find a clear sandy bottom, and more often than not shallow at that, good results are possible. Tailor are wrecking all too many soft plastic lures and are plentiful in the lake. If you enjoy some high adrenalin fishing, slip on a metallic lure and troll!! Bream will be a more elusive, but satisfying target if care is taken to explore higher regions of the lake. Bigger baits such as Pilchard will keep small fry off the hook. Take care and easy as you go. No-Fuss-Guss

22 December 2013 - Bream are on the improve
Bream are fishing well above the Devil's Hole with banana prawn proving a good choice along with Pilchard for the bigger Bream. Catches have been the exceptionally good looking golden or sea Bream , taken early in the morning. The weed continues to be a challenge making retrieval chancy work. A couple of bigger Flathead have been lost this way recently, so take it easy folks and always keep a moderate drag setting. Many smaller Bream are in the shallow waters and will make a mess of your bait. Otherwise the lake is coming good and is ready for summer fun. Take care and easy as you go. No-Fuss-Guss
PS No-Fuss-Guss will be assisting Santa again this year so hop along and support him, and the local clubs and businesses that make it all possible. Seasons greeting from all of us at the tipping page. Tight lines!!
15th December 2013 - Sandbar as good as in place for summer
Lake temperature continues to rise and Flathead are moving into the lower lake area. The loose floating weed is making lures a bit more work, though the weed is not toxic and actually provides good food and cover for the small animals in the food web. Bream have been caught around Blackfellows Arm and down around the Channel markers. Plenty of bites on Sandworm. but most are a nuisance size. The water is currently quite high after the sandbar closes, but unless more rain occurs, seepage and evaporation will lower it over the next few months. Looks good for xmas and new year action. Take care and easy as you go.

No-Fuss-Guss
2nd December 2013 - Summer officially here and the lake's temp's rising
Good bream are being taken in serious size (arouind 38cm) and numbers well above Devil's Hole. The Flathead are also moving down with good catches with Plastics in the lower lake reported near the channel. The winds are reducing and the longer, warmer days are making it an ideal evening fishing time. The lake is still open, though the opening is greatly reduced and significant flows only occuring at the top of the tide. Take care and easy as you go.

No-Fuss-Guss
24th November 2013 - Tavern Fishing Comp' produced good fish
The lake performed well last Saturday for the Water Wheel Beach Tavern fishing comp'. The weather was kind most of the time, and many entrants caught good size fish, both Flathead and Bream, the target species. We saw some spectacular catches (results board) and I haven't seen so many boats on the lake for a long while. 'Dutchy' took out the big prize with combined length of 155cm (two Flathead and a Bream). The Warragul boys were an example of many people who travelled a fair distance to compete and had a great time. The day before the comp' one of their members, Hans, caught a 95cm Flathead the first time he used plastics! Another of their members, Phil Cole came second in the comp with total of 151cm. Pilchards were a popular bait, but Prawns once again appeared to be best standby.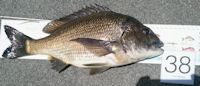 There is plenty of weed around the edges, but fairly harmless apart from having to drag any catches through it to land them. The fish are in excellent condition and other fishers caught a wide variety of species including Yellow Fin Bream and Tailor. Congratulations to the Wheel and Matty, a well run and fun comp'. Take care and easy as you go.

No-Fuss-Guss
12th November 2013 - Locals doing well, visitors not so well
Locals with good knowledge are bagging out on Bream and occasional Flathead. Visitors who are new to the lake are not fairing so well, with one team of four guys fishing for two days and not losing a bait. Fishers who know the lake well are taking Bream in very good condition. Above the 5KmHr signs is a good place to begin. Be prepared to get the occasional wild ride with Salmon all through the lower lake at the moment. If you want to target them, then try at the entrance or off Nos2 Jetty at the changing of the tide. We had 30mm of rain on Monday/Tuesday and this has freshened up the opening again. Take care and easy as you go. No-Fuss-Guss
PS Tavern is allowing late Fishing Comp entries so don't be put off by the dates - now that is a tip!
Latest News:

The Water Wheel Beach Tavern

Fishing Competition

is on 22 November.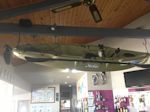 Briefing 6pm at the Tavern on Friday night, and the comp' is the following day Saturday from 6am to 4pm. $30 entry for adults, children (U15yrs) free. Target species Bream and Flathead. 1st Prize Hoby Kayak $2500+, 2nd Prize Weekend in Tasmania, 3rd Prize Quality Pro Fishing rod and Lures $300+ etc. Catch and release, so Photo entry from 3-5pm Saturday, awards begin 6pm. See the rules for record keeping and scoring in Tavern window..


All entries must be in by 11Nov 2013

. Any late changes to rules prizes etc will be made at the briefing. Be there! Get your entry to the boys at the Tavern now, don't delay!!
24th October 2013 - Weather not with us
The weather has been taking its toll recently with all too frequent rain events, plus the occasional big downpour (eg last Tuesday's rainfall) keeping anglers quiet. Consequently the lake has been rather slow and not many people reporting much action at all. However the mouth continues to stay open and has moved right to the east, over to the other side of the bar. The rain should keep the mouth open (some predict right through to xmas!) should see a healthy intake of prawn larvae and refreshing of other fish stocks for a bumper summer season. Take care and easy as you go.

No-Fuss-Guss
13th October 2013 - No Fuss Trip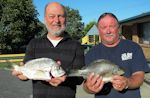 Your favourite Tipster has taken a weekend off with the Boys at Marlo and apologises for the break in service. In a close fought tussle one of these fish is the winner, can you pick it? A very good time was had by all and a wide range of fish were caught. Big Bream were again hard work, but plenty of sub-"keepers" kept lines and anglers busy. Just to give you an idea we caught Black Bream, Yellow Fin (Sea) Bream, Luderick, Perch, Mullet, not to mention being annoyed by the occasional Toadies, Eels and Seals!!! Baits were Local Prawn (almost black, but caught the winner!!), LE Sandworm, and Pickled Sandworm. Places tried were Brodrib above the bridge, Snowy, Lake Corringle, the Islands and the channel (very wide opening this year causing strong tidal effects nearly everywhere). Back to local news soon. Take care and easy as you go.

No-Fuss-Guss
23th September 2013 - School Holiday Time
The temperature of the water has been the main factor considered to be holding catches of Bream back. Some notable anglers participated in a local competition over the weekend and even with local knowledge on their side found the Bream hard work. The other major species Flathead are also very quiet and no doubt influenced by the water temperature. If we can work out some reliable and consistent way of reporting on lake temperature we will consider making it available on these pages. Take care and easy as you go.

No-Fuss-Guss
12th September 2013 - Visitors around
Just to follow up the previous report on the possibility of significant new fish coming into the lake, there have been reports of very silver, yellow finned Sea Bream (?) being taken on bush style baits. As well as Eastern Australian Salmon of good size are also in the lake, so watch out if you get one on a lightly tuned Bream rig! Mal' and Mick are shown here with a three nice fish, a 1.2kg Bream and 1.9kg Salmon taken with a flashy lure, It sounds like the Bream are about to return, so try arms around lower parts of Toorloo Arm. Take care and easy as you go.

No-Fuss-Guss
26th August 2013 - Lake fish very quiet
Very few Bream being taken at the moment, at a recent angling competition a gathering of the Lake Tyer's experts only managed one legal Bream on that occasion. Even good quality local Sandworm could not tempt them. Some Flathead have been caught off Number Two Jetty, but were quite light in colour and opinion was that they had come in from outside. The opening is very strongly tidal at the moment with recent, especially high tides. The lower lake system is getting a very thorough flushing. Just remember the fish are spawning at this time of the year, so look after our stocks with sensible angling. Take care and easy as you go.

No-Fuss-Guss
12th August 2013 - Suprise results
Word has it from the recent big comp in town that Flathead were taking lures, mainly plastics, allthough in small numbers. Generally very few Flathead have been reported lately, with considered opinion it is too cold and they are "hibernating". The Bream continue to be hard work and the keener anglers are applying hard bodied lures to increase their catches. Temperatures continue to be low in the lake and the opening does not appear to be closing any time soon, with strong tidal flows. Casting lures across the opening has also been popular. The majority of the lower lake is very clear sea water at the moment, a good flush is in progress. Take care and easy as you go.

No-Fuss-Guss
25th July 2013 - Good catches continue

Middle of the lake starting to fish well. Deeper waters proving better, maybe the fresher water on top in areas under tidal influences. Sandworm has some recent fans, and reliably peeled prawn is still good. About 3-5 metres a good depth to look for. Take care and easy as you go.

No-Fuss-Guss



PS Like to read

the weather

? Check out the new layouts and more accurate graphs.
PPS Check this link for more info on: East Gippsland Charters
16th July 2013 - Shakedown
The Diawa-Hobie comp was a good spectacle over the weekend. Congratulations for a very well run "catch and release" comp. However as the results show, while many fishers achieved spectacular results, about 10 of the 60 competitors did not weigh in. Given the undoubted experience of these guys, the lake obviously does not give up its fish easily. (See the site for details of the many lures these guys used) If you are going to try yourself, then try local prawn, peeled and un-weight-ed. Good Bream around the Kilo are ready for the keen angler. There have been Salmon observed in the lake and will provide exciting sport on a Bream rig, however if you want to target them, try trolling a silver lure. Take care and easy as you go.

No-Fuss-Guss

PS See you at the Twin Rivers.
Courtesy: http://www.bream.com.au
Local boy Matt Duggan running a nice third on the first day and ended up16th overall
23rd June 2013 - Surprising results?
Good results recently from high, middle and low lake from quite a number of boats. Some people have bagged out and the Bream are taking peeled local prawn. Both tight and slack lines have proved useful. Above Devil's Hole, down to near Pirate's Bay and into the main lake have all produced excellent fish in good size and condition. A couple of years ago the opening unsettled everything and it tooks months to recover, not so this time. Take care and easy as you go.

No-Fuss-Guss
18th June 2013 - Lake Tyers has opened
I saw the lake open naturally today at 7:30am. Huge amount of water rushing out. It will take a week or so for this to settle into a strong, regular tidal flow. However it will replenish some stocks of fish that don't breed in the lake and also provide an escape route for others who were in the lake. It should add a bit of spice to local conditions, so stay tuned for further developments. (Openings and How Deep) Take care and easy as you go.

No-Fuss-Guss
7th June 2013 - Long Weekend
Isolated reports of Flathead still responding to plastics. Bream still for the taking about midway up the Nowa Nowa Arm around Camerons Tracks and Reedy Corner. There will be more action over the weekend, and not much to offer until reports come back form that time. Take care and easy as you go.

No-Fuss-Guss
22nd May 2013 - Sluggish results locally
The average angler is having a hard time recently to find good fish. Reports of good bags trickle in from other lakes such as Bemm River and Mallacoota, but Tyers and the major lake systems are very quiet. No doubt the good anglers will make better of it. Sales of local prawn continue to be good, and your best bet, bait wise, as usual. Plastics will make the most of very few Flathead, though it was heard very good Flathead catches were taken well above Devil's Holes last week. Take care and easy as you go.

No-Fuss-Guss
9th May 2013 - Lake temperatures dropping, fish are moving
Blackfellows Arm continues to be the best place at the moment and with the temperature dropping the Bream and Flathead tend to move up into the narrower areas in the arms. Local Prawn as a bait is still popular and a good starting point. If you have not tried the Nowa Nowa boat ramp, now might be the time to come down from the top towards Devils Hole. Take care and easy as you go.

No-Fuss-Guss
15th April 2013 - Bream continues as the productive target
Bream are the main fish at the moment. Flathead can be caught, and those are usually of very good size, but are very low in numbers. Local Prawn is still productive with the Bream, and for locations, Black Fellows Arm is consistently mentioned. Keep the tackle light and with small sinkers. Use a hook like #2 Baitholder which is larger, rather than smaller for Bream, to avoid annoying small juvenile Bream hooks ups (They don't like it either!) Take care and easy as you go.

No-Fuss-Guss
10th April 2013 - Big ones are around

Generally around lower lakes system good catches can be made. Big Bream are being caught, but are spread out so moving around regularly will improve your chances. Some people are experiencing best results with fresh local prawn, whereas others have had good results on packet prawn. There are plenty of vigorous young ones which indicates the lake is in prime condition. Flathead though are scarce. Again Blackfellows Arm is a good area to begin with. Take care and easy as you go.

No-Fuss-Guss
7th April 2013 - Lake low, but Bream are good
Blackfellows Arm is fishing well, and also up the Nowa Nowa Arm near the Island and 5kph signs nearby. The Glasshouse through to Marl Island also attracting keen fishers. Fresh local prawn is working well and peeling a few may tempt the occasional Flatty which are still proving to be the elusive targets. The low lake level appear to be helping the Bream fishing, but not so with the Flathead. Luderick and Trevally are also around but in very l;ow numbers. Take care and easy as you go.

No-Fuss-Guss
27th March 2013 - Bream are up and Flatties are down
Catches of Bream around Mission Point have been good, but the Flathead have gone very quiet, try well up in high waters. Around into Bulmers and before Pirate Micks along with the drop-off near the Glasshouse for other Bream spots. Local Prawns are available and very effective. Take care and easy as you go.

No-Fuss-Guss PS

Don't forget

LTBAC Easter Bream competition

31 March Easter Sunday. Check the fantastic array of prizes and all the ways you could be a winner! Great family fun for all.
13th March 2013 - Bream are back!!
The Bream are back and in big healthy sizes. Trident is a good place to start with peeled Prawn producing 32cm+ fish. The plastics are still working with Flathead. Bream are being caught down to the middle lake and seem to be more dispersed, so hunt around. Once again fishing into the evening or getting up early gets better results, with evenings doing better for some. There are also quite a few sizeable Salmon in the lake that are taking lures. Take care and easy as you go.

No-Fuss-Guss
1st March 2013 - Not easy on beginners!!
The level of the lake is still low, though recent rains may boost it a little. Bream are still elusive for many anglers with even the best anglers having lean days. Flathead have also become harder to find. However some visitors achieved success using hard bodied lures and soft plastics on the Bream. A certain commercial group were having a good go and were pleased with their efforts, so it can be done. Blackfellows Arm is probably the best bet. Take care, and easy as you go,

No-Fuss-Guss
20th February 2013 - Guest fisher Pedro comments (No-Fuss-Guss is on Holidays!!!)
The lake level is at its lowest with plenty of weedy flats exposed and drying in the sun. Flathead are proving a hard to find but the Bream stocks are definitely improving and looking good for a bumper Easter harvest. Local prawns are best if you can still get them. Locals will have stock piled them in the freezer by now. Lures are definitely worth a try, especially in the deeper waters.
The surf is always a good source of fun, keep a popper on, and maybe a trace in case the big one hits. Take care, and easy as you go,

No-Fuss-Guss
13th February 2013 - Bream definitely moving
Some excellent catches of healthy Bream reported from Blackfellows Arm and around towards Fishersmans Landing. Others have chosen to begin at Nowa Nowa and work back successfully. The Bream recently have been healthy and good quality fish. Flathead have now become harder to find and need serious effort for a good catch. A fishing occasion of interest to many was the "Youngies versus Oldies" competition. A family comp organised each year and this year has seen the Youngies wrest the Trophy out of the firm Oldies grip. Mel, Macca, Robbo (O Team) and Luke and Sam (Y Team) caught some fine fish as shown here.
Take care, and easy as you go,

No-Fuss-Guss



28th January 2013 - Bream improving

Much improved catches of Bream reported from up the lake, with 'around' Devil's Hole mentioned a few times. Work towards the edges for the Bream, and this will give bank fisherman a bit of hope as well. Flathead are still proving a good fish to target with regular catches of good sized fish reported. Congratulations to Ray and Peter (both members of LTBAC) with a nice catch this morning. Excellent Bream and some nice Flatties. Take care, and easy as you go,

No-Fuss-Guss



19th January 2013 - Flathead are best bet at the moment
Plenty of fun with the smaller Bream around the jetty at Number Two Boat Ramp, however better size and quality at the moment are with the Flathead and a good spot to try is in Blackfellows Arm. Some success was reported there drifting and using plastics. While the big Bream appear to be still under pressure, good fish are around and recent report of healthy good sized Bream from around the Glasshouse area. Not sure the Bream problem is Sea Lice, as other opinions are that it is more likely a fungus. Take care and easy as you go,

No-Fuss-Guss



8th January 2013 - Lake conditions under pressure
Flathead are the consistent performers for quality fish so far this season. The larger Bream are under a seasonal attack of sea lice and while they are easier to catch, they are not in quality condition. Anglers are probably best advised to head further north toward at least the middle of the lake where the younger Bream will provide excellent sport. Number 2 jetty has given some good results with fishers making a very early start and Flathead the target. Not easy to say what might be making it so hard for the senior Bream, but no doubt the algae and mud-gas may have something to do with it. We may need some decent rain for a balancing effect. Wishing you the best of luck for the new year 2013 and easy as you go,

No-Fuss-Guss



23rd December 2012 - Big ones are around
Flathead and Bream can be found around the banks, fishing with Pilchard and Prawn. A good Flathead area is around the Mission Point, other areas to try are the walk area near Lonely Bay with plastics.


This big one (6-7lb) was caught at Reedy Arm on peeled prawn (No-Fuss-Guss put the

Catch and Release

policy into action on this one). Try a short lead, to keep your bait on the bottom, to keep you in with the Flatties. Big fish are in the surf if you are prepared to paddle your bait out, heavy rigs and gear required. Easy as you go,

No-Fuss-Guss



14th December 2012 - Tailor are providing surprise hook ups
Flathead are taking Pilchards and Plastics down as far as the middle of the lower lake. Bream are still hard work and with Tailor around watch your rigs. However if you are after lively hook ups, then try Tailor and use a Blue Bait or a Silver Wobbler style lure with a heavier nylon or wire trace. Easterly winds have been dominating lately and making the going much harder. Easy as you go,

No-Fuss-Guss

(Congrats on new outboard :-) Ed.)

3rd December 2012 - Flatties good, Bream hard to find
A number of clubs fished the lake for sport and competition this weekend. Reports are the Bream are very elusive and not to be easily found in regular favourite spots. Flatties have come right down through the main system and are being caught mainly on plastics and hard bodied lures. Down around the Power Lines and over to the Glass House and around the banks near the Trust would be places to try. Easy as you go,

No-Fuss-Guss



16th November 2012 - Good opportunities
Middle lake has provided good Flathead near the banks, and higher up past the Island again close to the banks. Bream are still a challenge, but some have showed up near the Channel Markers. Possibly a bit more rainwater and high temperatures will help them come on the bite. Bank fishers may like to try along the strip from Mill Point around to the power lines, and the point between Number 1 and Number 2 boat ramps has given some good hits, but no catches (maybe Tailor? Ed.). Easy as you go,

No-Fuss-Guss



9th November 2012 - Mixed results early into the Season
Bream are harder to find, and people have had more success with Flathead using Pilchards as bait at the Nowa Nowa end of the lake. Mainly fishing with bait, one fisher bagged out and claimed 7 Flatties to 1 Bream.
The lower, broad lake area has provided fishers with some Flathead by using soft plastics.
The temperature of the water is rising, but has a little way to go before fish will be easier to catch, however this should not deter the experts from beginning now.

No-Fuss-Guss


PS Special Message from No-Fuss-Guss, WWBTavern opening Monday 12th Nov!!!

5th November 2012 - Guest Reporter: Kevin Grenville from Violet Town
G'day guys. Me and 5 mates from Shepparton fished Lake Tyers on the Melbourne Cup long weekend, with mixed results. The boat I was in fished well. We headed up to the Devils Hole and there were quite a few fish were caught on the Saturday but not many in the main lake itself. On Sunday the same. Up high in the lake around Devils Hole fished well with odd one caught in the main lake. But come Monday morning the main lake was on fire. We bagged out in 2hrs. We bagged out in Saturday and Sunday as well. We tried all different colours of soft plastics and found anything with a white/silver bottom was dynamite. Our usual favourites such as bloodworm and black gold not so much. Potty, blue oyster and evil minnow were the plastics to use. Nothing was caught on bait. Also on the Monday we caught a 1.5kg Trevally caught near the power lines on a potty coloured squidgie.
22nd October 2012 - Temperature rising and fishing improving
The spring sun is producing a rise in lake temperature and Flathead catches are reported on plastics, hard body lures and peeled local Prawn. In fact the first sightings of small Prawn in the lake has already been verified with a few small ones caught by dipping.
Blackfellows Arm and near the markers are providing early catches of Bream and Flathead.

No-Fuss-Guss



Promotion From Fish-e-Fax Newsletter:
Are you from another country and interested in fishing? Have you a story to tell how your fishing has changed since coming to Australia? Filmmaker Amie Batalibasi is making a film about migrants and their fishing stories, he needs 8 volunteers and they need to apply before October 31st.

Maybe help someone else to apply?


See "Fishing for Culture" for more details.

(Recent, or older, migrants can all apply).
We welcome a new fishing tipster,

No Fuss Guss

, and at the same time fondly farewell

Ian Page,

who's tips have been a major attraction on these web pages. I am also pleased to report that in deference to Ian's excellent piscatorial judgment we will continue to make his fishing reports available for those who like to consult the past history as a guide to what will happen next. However as conditions change and fresh news is always appreciated No Fuss Guss will provide the eager angler with timely news of the fishing at Lake Tyers Beach. Stay Tuned!!!
We wish Pagey all the best with his new endeavours and will connect you as soon as possible with his new venture on the Murray, Australia's iconic river.
For those that love their records:
Pagey ARCHIVE 2012
Pagey ARCHIVE 2010
Pagey ARCHIVE 2009