LTB Brag Board
With the recent upturn in the fishing it is time to get the bragging rights out, and just go for it. Any attempts at false modesty will be quickly seen through, so the winners and grinners will be allowed unparalled chest beating, and contributors will be recognised for their excellence in angling by a listing right here.
Gidday Rob

Got hold of a nice one last week

Caught on Evil Minnow flick Bait

6lb fluoro carbon leader n 4lb braid

Over 90cm

Released

Tight lines

Boydie

Nov 2014

Note: This fish photo was taken before we all began promoting "How to handle a Monster", damn nice angling all the same Boydie!!








Evidence of a tidy haul by the Happy Hookin' boys. Note especially the great KG (that means King George Whiting) hooked over near the old Glass House homestead. Nice one lads :-) Great Trip Rowey!!!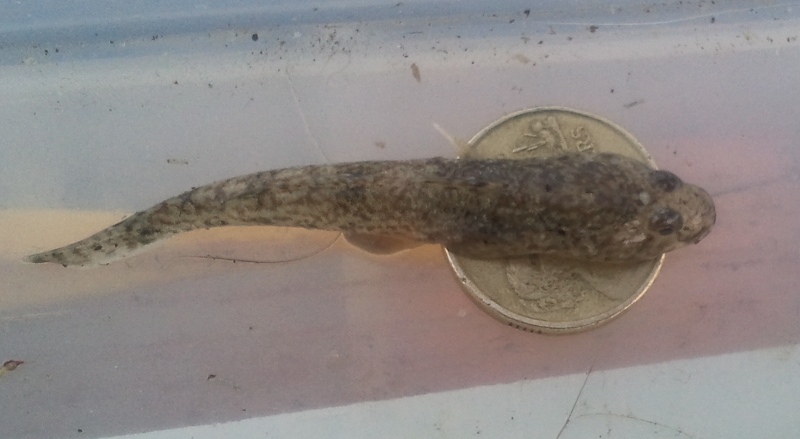 This little fellow was unlucky to be foul hooked on the last cast of the day. The Flathead juvenile (baby?) was caught on a #2.0 hook (true!!) and was mistaken for remaining bait as I pulled it in. The fact it was wriggling gave it away. The coin beneath it is an Australian $2 and is about 20mm across and it makes the fish about 70mm in length. A record indeed, buit in the wrong direction. After the fish was taken off the hook, and photographed, it was released back (yes, it was undersized) into the lake and it swam away vigorously!!! Plucky little boy or girl!!! See above for what these great little fish grow into :-)

These two blokes landed a great catch where few others were succeeding. Quite a few boats came in empty handed this day, but this boat was the exception, not the biggest and not the cleanest, but easily outstripped the rest. Well done lads a very nice haul. Lake Tyers: 3 Weeks after the opening in late August 2014, using old prawn on slack lines in the main lower lake.

Leanne bagged this 43cm+ Bream in Lake Tyers in middle of February, 2014. Shawn was out giving the new tinne some trial runs and they got onto this lovely fish. Leanne was not an experienced angler, but now she is!!!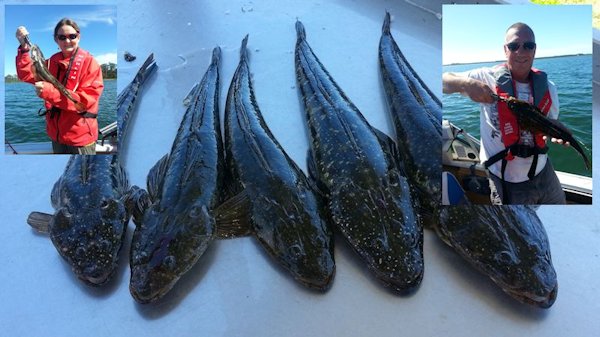 A good morning haul of Flathead ranging from 51cm down to 38cm, great lot of fish. Had to battle the extensive weed and find some nice sand flats to find these fish, the largest was caught on Prawn with the rest on squidgie wrigglers. The next battle was loosing the wrigglers to the Tailor that are roaming throughout the lake. The weather is warming up and so is the action.
Leah and Rod Brewer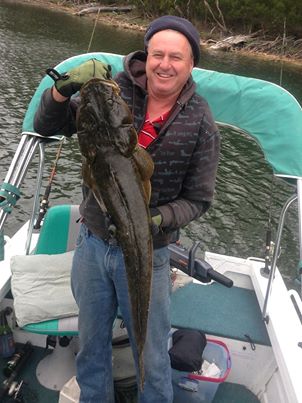 Now this the whopper so many are waiting for and thanks to the catch and release limit of the new Flathead size regulations this magnificent fish is still alive and awaiting another angling challenge in Lake Tyers.



Hello Steve Rowe from Warragul 0408994030

95cm flatty caught by Hans Orth
This was Hans first time to Lake Tyers and his first time using soft plastics, he and his mate cut there trip short and went home late Saturday saying that the fishing wasn't any good
What a lucky bastard
Thanks Steve


Note the way the Flathead's body wieght is supported here and the use of heavy gloves to hold the jaw. This fish has a much higher chance of survival as a result. Well done!!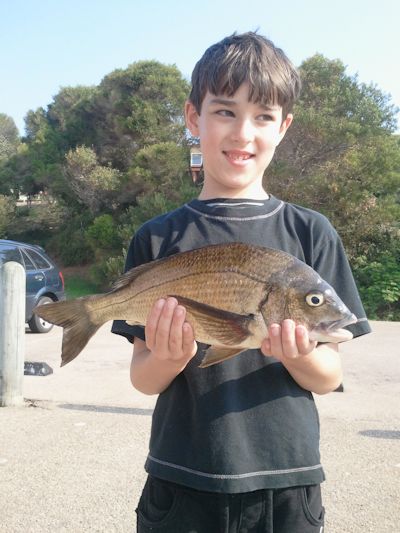 Tommy, Uncle Richard and "Popsy-icle" Oliver



Out early, fished until 2:30pm and for a young lad it seems a long day, but hey, when a good fish is landed it all seems worthwhile.

Tommy is pictured here with a 37cm Bream landed (or boated?) on 9th April 2013 on frozen local prawn.

A great day was had by all.

And a Cheerio to all the kids in Grade Two at Brownhill Primary School.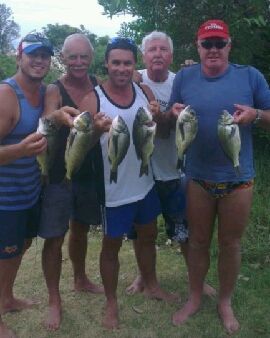 Youngies versus Oldies



A fishing occasion of interest to many was the "Youngies versus Oldies" competition in early February 2013. A family comp organised each year, and this year has seen the Youngies finally wrest the Trophy out of the firm Oldies grip. Mel, Macca, Robbo (O Team) and Luke and Sam (Y Team) caught some fine fish as shown here.

Lovely to see the Torquay boys back again and joining the locals in some great fishing fun.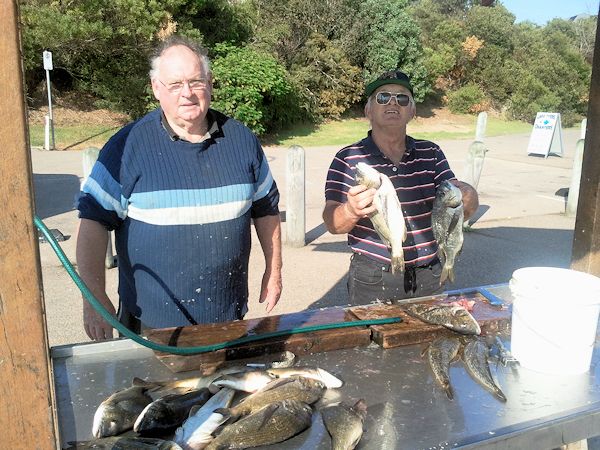 Ray Schmidt and Peter Allsop

turned the recent news on its head with a super catch on 28 Jan 2013. Returning back to Number Two Ramp and cleaning up on the table at 9am, would indicate an early start and some inspired choices for locations.

They bagged a nice mix of good sized Flatties and healthy Bream.

Welll done Lads, an inspiring effort.

No Fuss Guss

(our local fishing guru) landed this flatty monster on the first day out in the new boat setup, on the 23 Dec 2012. Peeled prawn in the lake above the Island.

Weight estimated at 6-7lb

NFG's Catch and Release enacted.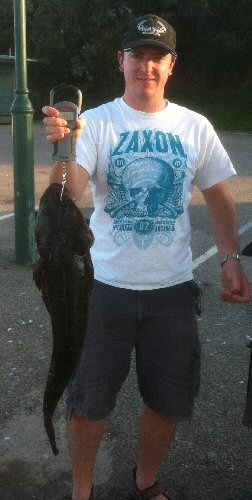 Chris Sheedy down at Lake Tyers Beach for the

Long Rods Fishing Competition

(March 31 -1st April, 2012) landed a really good Flathead. A benchmark performance indeed.

Weighed in at 3.08Kg

NB Caught before the Flathead Max Limit of 55cm became law.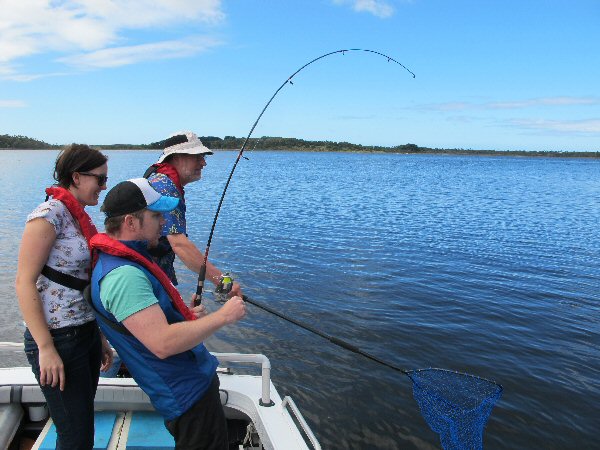 Dave and Elissa came to stay at LTB with Uncle Rob and dad Peter. A fishing trip was a major goal and maybe to catch a fish.

We had only stopped about 10 minutes, got ourselves baited up and in the water, and Dave hits piscatorial pay-dirt and hooks into a really nice 36cm Bream. As you can see from the photo he cuts a fine figure and has an excellent style in landing his first ever fish!! What a start!!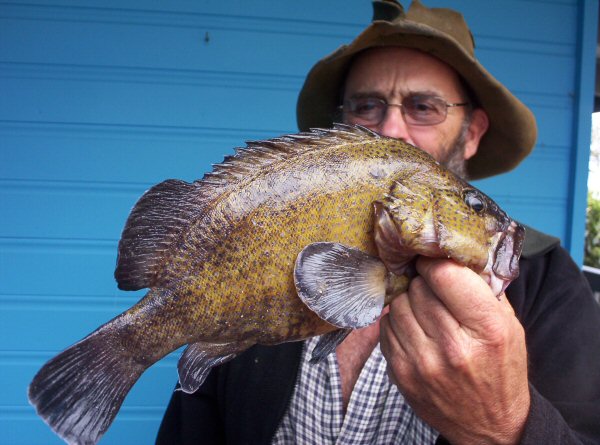 Just when you think you have seen everything - fishing throws up something new that amazes.

This fish was caught by

"Burkett"

a local and good judges have identified it as an

Estuary Cod

the first I have seen taken from Lake Tyers,it took a Garfish on a running rig.

This is a warm water species usually associated with NSW and QLD waters.


It must have drifted down with the prawns, when the lake was last open. What do you think? Global warming may have allowed it, or has it happened before long ago?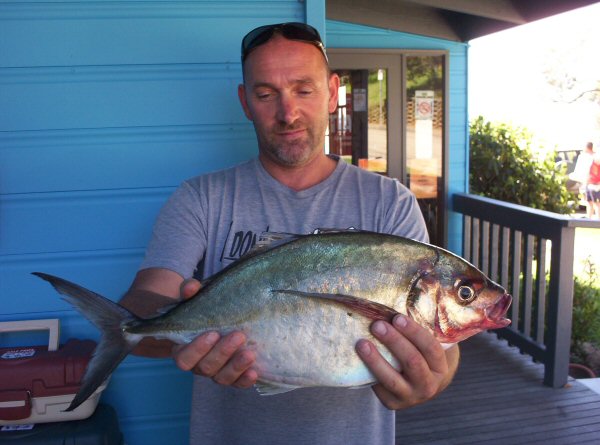 Mick Owen

caught a nice trevally on Prawn near Mill Point on Sunday 2.254 kg gave him a great run.

This fish is maybe one of the escapees from the school "trapped" near the opening a few years ago, or not?

The lake was open at the time but they insisted on swimming around in a small pool and were easy catches.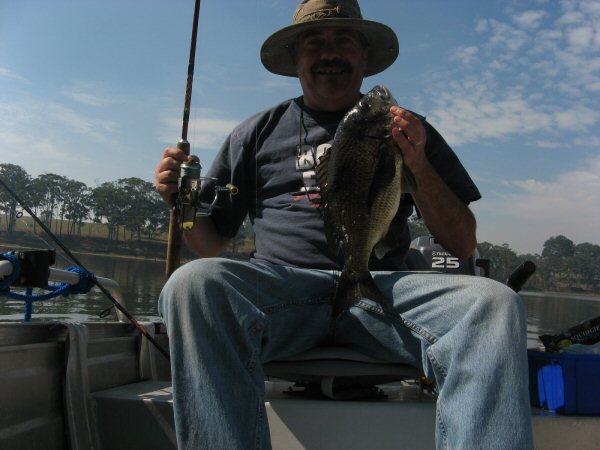 A fine Bream boated by none other than

Boydo the Bowlo

, this one came up at 44cm, and accompanied two others nearly as big. A fine early March, 2011 effort.

Now this fish would have gone well in the LTBAC Easter Bream Comp.

An excellent specimen, taken on a squidgy, no less. Sorry, but eat your heart out Bushy (and that's just the moustache to start with!!!).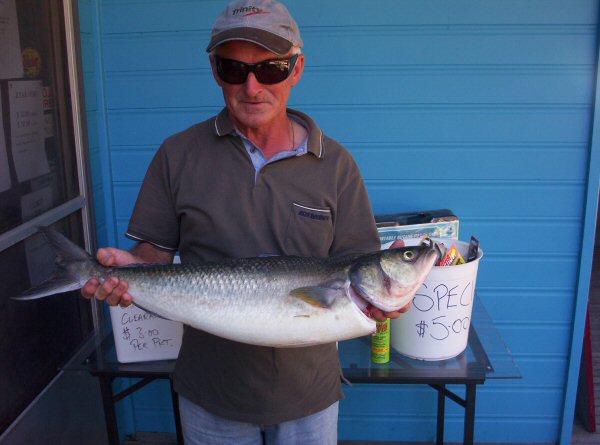 A huge Salmon caught in the 90 Mile Beach surf at Lake Tyers Beach.

What a ripper!! Tipped the scales at just over 5kg.

It was caught mid February 2011.

Can any one help us identifiy the fisher?

We forgot to collect that important bi tof info, cheers!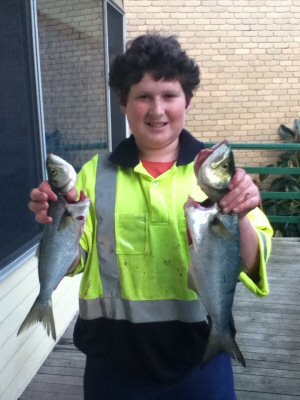 Tim Wilson

has had some success in middle February 2011 with a couple of nice Tailor taken at dusk and landed near the Number Two Jetty. Great effort by a keen young fisher!